BUSINESSPEOPLE -- Biography
BUSINESSPEOPLE -- Biography
Looptail
Hachette Book Group , 2013
Social Responsibility
In Looptail, Bruce Poon Tip tells the story of his top adventure travel agency G Adventures and how its innovative management practices and social enterprise mission have engaged employees and...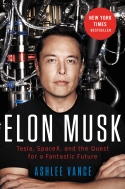 Elon Musk
HarperCollins , 2015
Business Biographies
Thanks to pioneering firms like SpaceX and Tesla Motors, Elon Musk has become one of America's leading businessmen. He is often compared to Steve Jobs in terms of his vision and drive. Many are...