Why Some Companies Emerge Stronger and Better from a Crisis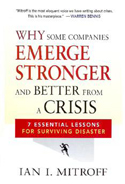 IN THIS SUMMARY
Until very recently, companies thought of accidents as natural or normal. Natural disasters such as fires and floods have always existed and most companies know how to use risk management to protect themselves. But with technologies becoming increasingly complex, the potential for large scale catastrophe is virtually inherent in basic design and everyday operations.
In the last few years, a new and a more ominous category of crises has emerged – abnormal or intentional accidents that are the result of deliberate acts of evil. These include bombings, cyber attacks, cheating, stealing, and manipulation of the truth, caused by betrayal and sabotage, whether by employees or outsiders. Although not completely unheard of in the past, the number of abnormal accidents has risen dramatically over the last decade.
Why Some Companies Emerge Stronger and Better From a Crisis attempts to help corporations reconsider their traditional structures that handle crises and move toward an overarching, ongoing discipline of crisis management.