Why Should Anyone Work Here?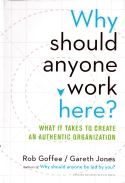 Only available to full subscribers
IN THIS SUMMARY
What does the best workplace look like? That is the question Rob Goffee and Gareth Jones try to answer in Why Should Anyone Work Here? Successful organizations are no longer those that have strong cultures, but those that can adapt to attract the right people and inspire them to do their best work. Authentic organizations encourage their employees to be their best selves.