Shaping the Future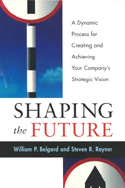 IN THIS SUMMARY
Change management should, theoretically, be an ongoing element of every company's growth. However, with three-quarters of all change initiatives failing to achieve the intended results, change management has become a synonym for an ineffective program that often wastes millions of dollars.

Most attempts at change management fail because managers ignore the emerging "megadigm" – the authors' term for the profound changes that have taken place in customer expectations as a result of information technology. Large-scale, effective change, therefore, requires a new approach.

To realize a company's vision for the future, managers and their staff must have a detailed, shared vision, and they must focus on a single, strategically critical point of change – the strategic imperative – that can change everything else in an organization.

Shaping the Future presents the dynamic process that can help a company define its strategic imperative, achieve transformational alignment and reach the critical mass necessary for permanent change - and prepare the organization for future change.