Practical Intelligence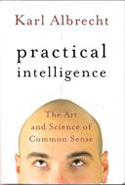 IN THIS SUMMARY
Determining that IQ, as a singular measure of competence, could no longer be supported, Harvard professor, Howard Gardner, proposed (in Frames of Mind, 1985) a range of key competencies, which he calls multiple intelligence (MI). Daniel Goleman's Emotional Intelligence (1995) popularized Gardner's notion and created widespread interest in the developmental possibilities of the MI model. In 2005's Social Intelligence, Karl Albrecht explored a dimension of MI which he defined as both the ability to get along with others and a set of practical skills for interacting successfully in any setting.

In Practical Intelligence, Albrecht demonstrates that thinking is a bodily function and qualifies as one of the essential life skills, incorporating a wide range of mental processes, capabilities, and habits for coping with life's challenges and opportunities. He offers a conceptual framework for defining and describing PI, and outlines how to develop the skills to think more clearly and effectively.

Ultimately, Albrecht believes that PI could serve as a unifying concept around which to structure the discussion of what some are calling the American restoration agenda, a set of priorities for bringing back key values, traditions, and institutions that many feel have been lost in the "dumbing-down" of the American culture.