Make Your Workplace Great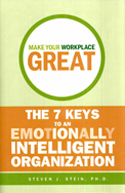 IN THIS SUMMARY
Attracting and retaining top talent remains a constant struggle in today's continually changing job market. A second issue is ensuring that new recruits fit well within organizations. In order for a company to remain competitive, it must evolve and transform the way in which it hires and manages its workforce.

Dr. Steven J. Stein, the founder and CEO of a leading psychological test-publishing company, has spent years researching the impact of emotional intelligence on human behavior in the workplace. He poses two questions: How can the research about individual emotional intelligence improve the workplace? Is there such a thing as organizational emotional intelligence?

In Make Your Workplace Great, Dr. Stein highlights the link between an organization's emotional intelligence and its employees' performance, and outlines how to identify and solve problems using a system of seven keys to an emotionally intelligent organization from his assessment tool, Benchmark of Organizational Emotional Intelligence (BOEI).