The Art of the Start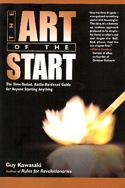 IN THIS SUMMARY
For entrepreneurs, or anyone inspired to start something -- be it a new business, new product, new service, or a new organizational division – it's easy to get bogged down in theory and unnecessary details which hinder the process of starting and doing.

Inspired entrepreneurs often dream big visions while spending money and time trudging through detailed market research reports, competitive analyses, and long-term forecasts.

In The Art of the Start, author Guy Kawasaki helps people simplify the art of starting a new endeavor and avoid the potential pain of paralysis. His study of attitudes and people's states of mind focuses on priorities and guidelines for doing rather than dreaming.