Achieve Sales Excellence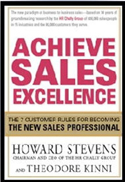 IN THIS SUMMARY
Achieve Sales Excellence is based on a 14-year study by the HR Chally Group that surveyed over 80,000 customers in fifteen industries and revealed a new paradigm for business-to-business selling. While price, quality, innovative product features, and availability of products and services obviously influence customers' buying decisions, none of these are the most influential factor. The study's results indicated that B2B customers rank salesperson effectiveness as the most important factor in their buying decisions.
Business customers' decisions to buy goods or services are not simply decisions to purchase; they are also decisions to outsource the management of the benefit that the purchase is intended to deliver. Business customers, therefore, are turning to salespeople to fill the role of surrogate managers.
How do customers want salespeople to support them in the pursuit of their goals? Seven factors were revealed in the study, factors that B2B customers believe define a world-class salesperson.