8 Patterns of Highly Effective Entrepreneurs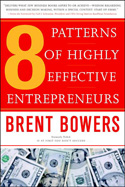 IN THIS SUMMARY
So you think you're an entrepreneur?

Do you have a vision?

Are you passionate about this vision of yours?

Do you believe that you've just stumbled upon the next biggest thing since Microsoft?

If you do, then we could, at the very least, conclude that you do possess a certain entrepreneurial trait.

You, just like all entrepreneurs, think big.

But you aren't a certified entrepreneur just yet.

There's more to an entrepreneur than just a big dream or a grand idea.

If anything, what distinguishes entrepreneurs from the rest is their drive to act and go for that dream.

They aren't just talkers.

They are movers.

What sets them apart further is how they move.

Sure, everyone has a dream and everyone has their own way of reaching their dreams, but it's the when, why, what and how entrepreneurs act to make their dreams come true that makes them who they are.

"8 Patterns of Highly Effective Entrepreneurs" dissects the minds and habits of some of today's remarkable entrepreneurs and gives you an insider on what it takes to be an entrepreneur.

If you find these patterns in you, welcome to the club.